May 2021 newsletter
Note from the Newsletter Editors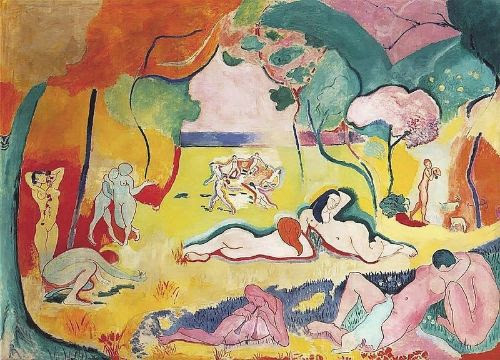 We're happy to share another month's installment of sustainable consumption news about upcoming events, recent publications, and opportunities to contribute to research and activism. As signs of spring surround us here in the Boston area, many North American and European news outlets are brimming with content about "emergence from the pandemic" and "making a return to pre-pandemic lifestyles." But we recognize that the COVID crisis is far from resolved and is still unfolding, currently resulting in catastrophic losses in India, and has exacerbated inequalities and underscored ways in which dominant economic and social systems are not sustainable in many communities around the world.
As always, we are asking ourselves questions about the relationship between wellbeing, community, and consumption and considering whose definition of "the good life" we should aspire to. As a work of art to reflect on this month, we offer you Henri Matisse's
Le bonheur de vivre
, which scandalized critics when it was first exhibited in 1906, and perhaps can serve as an inspiration for contemplating sustainable lifestyles.
–Halina & Liz
New SCORAI book available

This book takes an in-depth look at Covid-19-generated societal trends and develops scenarios for possible future directions of urban lifestyles.

Drawing on examples from Brazil, China, and Israel, and with a particular focus on cities, this book explores the short and long-term changes in individual consumers and citizen behavior as a result of the Covid-19 pandemic. On the basis of extensive market and opinion research data, aggregate data, observational evidence, and news reports, the authors provide a detailed account of the transformations that have occurred as a result of a triple shock of public health emergency, economic shutdown, and social isolation. They also examine which of these behavioral changes are likely to become permanent and consider whether this may ultimately promote or restrain sustainable lifestyle choices.

Innovative and timely, this book will be of great interest to students, scholars, and professionals researching and working in the areas of sustainable consumption, urban and land use planning, and public health.

Get the book