Beijing (2014)
Workshop on Sustainable Consumption Research in China
SCORAI China was launched at a workshop sponsored by the School of Environment and Natural Resources at Renmin University in Beijing, on November 15 & 16, 2014.  The aim of the workshop was to discuss and improve the proposed interdisciplinary research framework on sustainable consumption research in China, exchange theories and research methods, explore opportunities for cooperation and discuss the development of SCORAI China.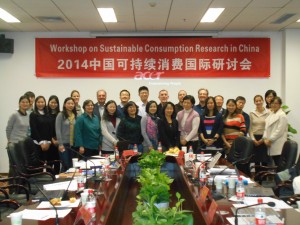 Workshop participants, Renmin University, Beijing.
This workshop and SCORAI China's inception emerged from a working group of interested researchers set up during the Global Research Forum on Sustainable Production and Consumption (GRF-SPaC) held on June 8-11, 2014 at Fudan University in Shanghai. The idea to form a network of Chinese researchers in the field of sustainable consumption and connect this network with the global network of SCORAI was well supported during this meeting.
Workshop Documents
Professor Dayong Hong's opening remarks
Press Release 1, Press Release 2